Water-saving sanitary ware it hidden problems
Time:2014-05-15    Read:1580 Time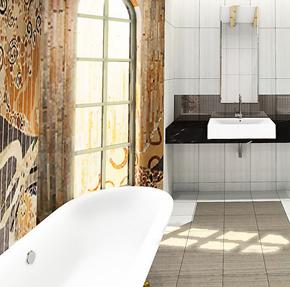 Sealed with ladder water price adjustment, the new water price standard is implemented. Facing the water price rising trend, water-saving bathroom products began to become the latest must-haves in the home market. For this reason, many businesses in the slogan of water-saving, attract consumer attention. According to nine are building materials is understood, these are much more expensive than ordinary products, water-saving products and many are not coded level, can really water-saving water-saving product?

Most expensive water-saving products

Sales personnel introduces to the reporter a senior water saving type shower shower, unit price of 569 yuan, set price 1299 yuan. Across this kind of flower is aspersed, is a row of so-called does not have water conservation function of all kinds of common flower is aspersed, price between 39 to 109 yuan. And explains that the water-saving shower USES imported materials, adopting "raindance" type of rain water function, different from the ordinary flower is aspersed "columnar" type of the water, which is one of the principle of water saving.

Household building materials market of water-saving products generally high cost, in the toilet, for example, some brand water-saving toilets that cost up to 7000 yuan, and other common product is controlled in 1500 yuan. Shoppers told reporters that the brand of the intelligent toilet is a major cause of the water, thus greatly improving the its price.

Water-saving products remaining "defect"

There is no "water mark" and "check" water-saving products, can't help letting consumers doubt, whether these water-saving products just hype "water saving" concept? Many consumers buy water-saving products put forward the question, "why can't the water-saving products, like home appliance, there is a clear marker of primary and secondary energy efficiency? This also facilitate monitoring, our customers peace of mind."

The personage inside course of study says, many businessmen are using "water saving" value to their products, but the actual effect is often not ideal of water-saving products, such as the efficiency of the water-saving closestool is not reliable, the products rely on gravity siphon to strengthen its water saving, but the family head demand is higher, if the water pressure is not a blunt not net, instead more water.